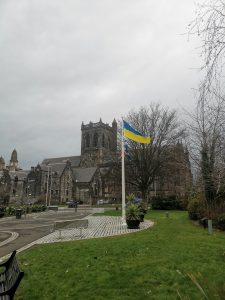 The Ukrainian flag flies in my home town of Paisley, taking the place of the EU flag which has been removed post Brexit. Behind it fly the flags of Scotland and the United Kingdom. The Scottish saltire represents the cross of Saint Andrew, coincindentally the patron saint of both Russia and the Ukraine. The colours of the Ukrainian flag represent wheat fields and the blue sky.
Andrew and his younger brother Peter were the first two disciples of Jesus Christ. They were fishermem on the Sea of Gallilee. Jesus said to the 'come with me and I will make you fishers of men'.
Andrew never visited Scotland, though a few of his bones did make the journey by means that are not altogether clear.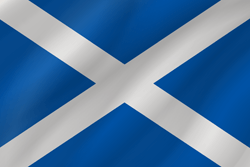 One legend is that a monk was told in a dream to to take a few bones from the relics of Saint Andrew in Constantinole to the ends of earth. Another version is that he was to take them to wherever he would be shipwrecked. That turned out to be what is now the city of St.Andrews on the east coast of Scotland. Or, it could be that an English bishop brought them to St.Andrews. We don't go for that one so much.
Andrew's brother, Peter, was said to have been Bishop of Rome in the first century A.D. It is said that both elected to be crucified on crosses other that the one on which Christ was crucified, Andrew's being the x-shaped cross we see in the flag.