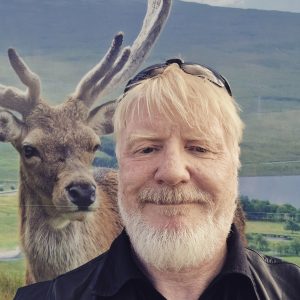 I have had more than 10 years experience as a Blue Badge Guide, mostly as a driver guidde, and as a member of the Scottish Tourist Guides Association (STGA), more than 30 years experience working in driver testing and training for the Department of Transport. More than six years experience as a qualified guide trainer for the STGA and have provided training on three Blue Badge courses. I also have three years experience as an international guide trainer for the World Federation of Tourist Guides Association. For 2023 I will be working as a mentor on the Blue Badge Course. I am also a director on the Board of the STGA.
Post pandemic there has been a surge in demand for driver guiding, which is great, but it does mean you need to plan ahead. I love working with small groups for driver guiding as I can create an itinerary exactly for the needs of the goup. Having an eight seat vehicle also means I can get into places which a large coach couldn't. I like to try to fit in fun things on my tours, for example feeding the highland cattle and stopping off at favourite viewpoints. Different months have their own plants in blossom. April, for example, is great for the gorse blossom, daffodils and baby lambs. May is great for rhodedenrons. Also we can get away from the crowds and avoid the tourist traps for a more authentic visitor experience. Every year brings new places to visit when I am driver guiding so I am always learning new things.
My hobbies include golf, hill walking, sailing, art, genealogy, travel, kite surfing, and, new for 2023, drone photography. I will offer a complimentary souvenir drone video as part of my driver guiding for 2023. This is subject to legal constraints, e..g not in built up areas, and weather conditions.
Please remember to read my blogs!