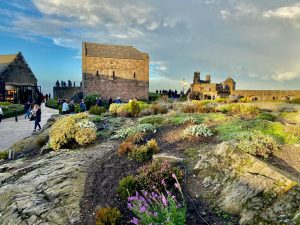 Explore Edinburgh, the historic and beautiful capital of Scotland. It is a city that's full of surprises and hidden gems. From its picturesque cobbled streets and historic castles to its charming neighbourhoods and bustling city centre, there's something for everyone in Edinburgh. Learn more with Visit Scotland.
And the best way to experience it all is by taking a day trip with a Scottish driver guide
A day trip with a Scottish driver guide is the perfect way to explore Edinburgh, as your guide will take you on a tour of the city, sharing their insider knowledge and local insights as you go. They'll show you the city's famous landmarks, hidden gems and off-the-beaten-path attractions, and give you a unique perspective on the city and its rich history.
One of the highlights of your day trip will be a visit to Edinburgh Castle, which sits atop a hill overlooking the city and is home to Scotland's crown jewels, the Stone of Destiny and the Scottish National War Memorial. Your guide can tell you all about the castle's rich history and help you to imagine what life was like here hundreds of years ago.
After visiting the castle, your guide can take you on a stroll through the city's charming old town, where you'll see the Royal Mile, a street that's lined with historic buildings and shops, and explore the hidden alleys and courtyards of this medieval city. 
You'll can also get the chance to visit one of the city's many museums, such as the Museum of Scotland, which tells the story of Scotland's rich history and culture. The National Portrait Gallery is also a great way to explore Scottish history and culture.
Get in touch and book your Scotland tour today
If you're ready for an unforgettable driving tour in Scotland, drop us an email at robert@kaledonia.co.uk or WhatsApp us on 0750 799 0944 to book your tour.