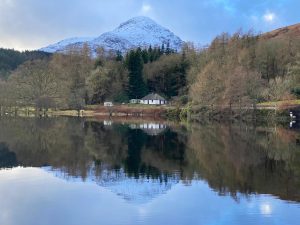 Make 2023 the year you invest in a car tour of Scotland
A car tour of Scotland are a fantastic way to experience the country's breath-taking landscapes and charming towns and villages. If you are driving you can't enjoy the scenery. Let us do that and you can sit back and relax. Listen to the history and legends of Scotland.
Scotland is a very magical area to explore by car, regardless of the driving trip you choose. Our driver guiding is now carbon neutral. At the end of your tour you will be given a cerificate. This will tell you where trees have been planted to offset the carbon generated by your car trip. 
Scotland has low population density so traffic is not usually a problem. The standard of driving is generally high and the roads are good quality. Road safety is not the concern it would be in many countries. Car tours in Scotland are relaxing. We plan a route so that you can see what you want to see. As I have a van with a panoramic sunroof you will get the best possible view. Air conditioning throughout with seperate controls will keep you cool. I use a microphone so you can hear me throughout the van. Not being a large coach, it means we can get into the best spots.
The name of our company, Caledonian Tours, gives it away. We specialise in providing customised, guided car tours that take you wherever you want to go when exploring Scotland. We'll make sure you see everything on your list throughout your holiday, and we'll be happy to put together an itinerary for you so you won't miss a thing.
Learn more about us today and tell us what you want out of your car tour of Scotland
To see what we're up to, read our blog or see our latest reviews here!