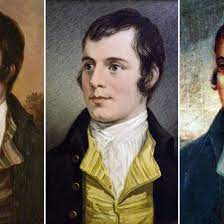 Celebrate Burns Night in style with Caledonian Tours
Robert Burns is the national poet of Scotland. The second most sung song in the world, 'Auld Lang Syne' is his work. Born from humble farming stock Burns became an eighteenth century media sensation with the publication of his poems. Although his poetry contains a lot of Scottish vocabulary it is still well worth reading for its humour and psychological insight. 'Tam O'Shanter' is perhaps his best loved poem. Visit the Burns centre where you can still see the very bridge Tam and his horse crossed to escape the witches.
Burns Night is a special occasion celebrated every January 25th in Scotland. This is to commemorate the life and work of the famous Scottish poet, Robert Burns. It's a night filled with traditional Scottish foods, music and poetry, and is a truly authentic way to experience the culture of Scotland. The national delicacy, haggis, is served. However, there is need to wait till January, haggis can be eaten at any time of the year.
Celebrate Burns Night in Scotland, there's no better way to do it than with a professional tour guide
Even if you are not in Scotland in January you can explore the gentle hills of Ayrshire, the area know as 'Burns country'. You will also get the chance to see the famous Brig o Doon (bridge), the memorial garden, and the Auld Kirk (old church). The Burns Centre at Alloway has a museum with many artefacts associated with the poet. You can also go inside his birthplace cottage, just as it was in the eighteenth century.
Talk to us today! Let us know what you're looking to get out of your tour of Scotland!
If you're ready for an adventurous trip to Scotland, drop us an email at robert@kaledonia.co.uk
Or contact me on WhatsApp us on 0750 799 0944 to book your tour of Scotland.
Don't forget to read our blog for the latest news and updates. Visit TripAdvisor to see what our previous customers have to say.